Hey Beautiful world!
So I guess it's time to let guys in on what products I couldnt have got through the month of January without. As you guys probably know already, I have ridiculously dry and sensitive skin, so these products have been a saviour for my skin through the cold winter month of January. In no particular order these are my favourites...
Carmex Mint -
This has been amazing for my lips, day or night and especially when going out. I prefer the tube version to the pot version just because I'm always having to touch up on the go and I'm very conscious of hygiene when being out in the public so rather than sanitizing my hands before applying it's easier to us the squeezy tube and eliminate the risk of putting germies on your lips (not to mention spreading them to the pot!) I dont know maybe it's the joys of being a nurse that means you're always thinking about hand hygiene!
My Trusty E45 Cream -
Wouldn't be without it, I've waffled on enough about this...It's an all over dry skin saviour and I cant be without it!
Revlon Photoready Foundation -
I love this foundation, doesn't irritate my sensitive skin. I've found the perfect colour for my skin and although some people complain about the slight shimmer in the foundation, I hardly notice it on my skin and the coverage I would say is medium to full and definitely buildable. This foundation really does what it says in the bottle and photographs brilliantly under any kind of lighting (this is a tried and tested fact as I recently wore this foundation to my brother's wedding and for my graduation ceremony and the photographs turned out pretty good if I do say so myself!)
Mac Paintpot in Rubenesque -
This is my first and only ever mac paintpot and although I wore it a bit when I first purchased it from sheer excitement it got a bit lost in my (extensive!) makeup collection however I've rediscovered it and now I'm wearing it as a base everyday! It has a multi-tonal finish of gold and pink and is slightly shimmery. On me it stays put all day and doesnt crease! I love it!
The above picture was taken from the following blogger's page who has done a wonderful review on rubenesque with absolutely gorgeous pictures and swatches so please check out her blog, It's awesome!
The Sunday Girl
Look Beauty Blush in Rosy -
I reviewed this makeup line a while back and seem to grown in love with it all a little bit more everyday, I love the rosy blush which works very well with rubenesque as it has pretty much the same sort of colouring and multi-tones. It works for me like a blush and highlight in one which feeds my lazy side very well!!
Elf studio Cream liner -
I know a lot of these are repetitive but what can I say, These are what work for me and when I find something that works I tend to get stuck in a bit of a rut! Hehe but as mentioned previously I love the elf black cream liner, I literally use it everyday and couldnt be without it, In fact if i ever lost it I dont think I would survive the sheer horror of it (ok ok I know I'm being a bit of a drama queen but I think you get the picture of how much I love it!)
Imperial Leather Foamburst Shower Gel -
Just a little bit random but this is the shower gel i'm loving, It has a shaving foam consistency in that when you first pump it out it looks like a gel but transforms into a huge amount of thick foam which smells gorgeous! The Hawaiian Spa scent is my favourite!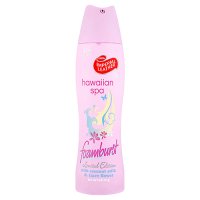 Lynx for her -
I know this is a bit of a gimmicky product but I'm the kinda girl who would use lynx for men if I liked the smell (well it not as if I'd wear a sign saying I'm wearing men's deodorant with it!) But I firmly believe that scents shouldnt be confined to gender and if it works then why not wear it! But anywho I love the smell of this, it does what it's supposed to and keeps you fresh and dry *ahem* not much else I can say about a deodorant...
Sleek Pout Polish -
I love these pout polishes! It doesnt matter what the colour may be they always seem to just look great! I have quite a collection of these and every handbag I own has a different shade of this in it, my favourite is the nude one called bare minimum but I do take it in turns to wear them all (the only one I dont own is the Limited edition flourescent yellow one because well...when am I ever going to wear that?!?)

Well I think I'll leave it at that for now, I could literally go on for pages and pages about products I love but I'll practice some self control for now! hehe
Thanks for checking in guys!
Ciao for now World!
xoxox